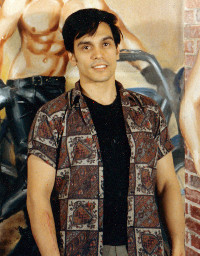 2012 Leather Hall of Fame Inductee
Dom Orejudos, aka Etienne
Domingo Orejudos, Dom, is known for artwork depicting the male body in all of its leather straining heroic proportions—creating fantasies of domination and submission that most leather men try to remember and remember and definitely can't forget. Dom's personal and business partnership with Chuck Renslow (Leather Hall of Fame, 2009) influenced leather history through establishment of Kris Studios, the Gold Coast Bar, Man's Country, and International Mr. Leather. Dom was also an acclaimed ballet dancer and choreographer, Emmy Award Winner, and writer and illustrator of s/m story books that have cum stains all over them. Sorry for being graphic, but that's part of what Dom was all about. He was up for it all, he lived the leather life, and through his art—under the names of Etienne and Stephen—he took it to another level.
Born in Chicago on July 1st, 1933, of Italian and Phillipine ancestry. Family name pronounced "Orjudos." Dom was stricken with pneumonia while traveling in a 1987 delegation to China and Tibet. After a long battle with AIDS, he died at his home in Boulder, Colorado, in 1991 at the age of 58. Survived by his brother Gill Orejudos, and partners Chuck Renslow and Bob Yuhnke. His vision lives on.
Chuck Renslow, Kris Studios, Gold Coast, Man's Country and IML
Dom met Chuck Renslow when he was 16 and Renslow was 20. Their meeting shares elements reminiscent of an early Etienne painting. The place: Oak Street Beach, Chicago. The year: 1949. Renslow, cruising the beach and "thunderstruck" at first sight of Dom "lying on his stomach, in a blue bathing suit, with his beautiful butt up in the air." Chuck, who had started taking physique photographs, immediately signed Dom to a modeling contract. They became lovers and life-long partners—their business and personal lives entwined. Together they started Kris Studios—one of the first male physique photography modeling houses, unique in its leather appeal. At the time Renslow was working full time as a manager at Walgreens and Dom (having graduated two years early from high school) had the time and talent to handle many of the Kris management details. Dom's personal and business partnership with Chuck led to other successful ventures which are landmarks of leather history—most notably the Gold Coast bar, Man's Country bathhouse and International Mr. Leather contest.
The Gold Coast opened in 1958 and is often cited as the nation's first leather bar, and International Mr. Leather, now in its 35th year, turned a local leather contest into a national lifestyle. "Things like the International Mr. Leather Contest," Dom said in an interview, "which started out as a little idea I had that I discussed with Chuck and we worked on developing it and how we'd go about doing it; or decisions about what direction our businesses should take, the making of policy, things like that I'm very active in. The International Mr. Leather Contest has grown into something very big and I'm really kind of proud of that one." You can hear the modest and proud sense of co-ownership Dom felt, and he continued as an esteemed IML judge until the end of his life.
Throughout their lives with other lovers, Chuck and Dom always considered and described themselves as lifetime partners. As Dom reminisced in an interview, "Chuck, my partner for 25 or 30 years now, is a man to whom I would give a blank sheet of paper with my signature at the bottom. That's how much I trust him."
Etienne—the Artist
Dom's first memory as a child was being on the floor at the age "of six or seven" copying comic strips. Highly imaginative, he often drew comic book heroes in sexual situations. By his teens he drew to arouse himself, and his first orgasms came from drawing what he termed "dirty pictures," which he would then burn once they got him off. Shortly after meeting Chuck Renslow, Dom had the opportunity to publish some of his erotic drawings in the magazine "Tomorrow's Man." Close to publication date, Dom realized he wasn't ready to go that public and asked the publisher if he could use a different name. The publisher agreed, but said the new name had to be the same number of letters as the name "Domingo," which had already been typeset. Dom had recently read a book featuring a character whose name contained the right number of letters: Etienne. Later in his career, Dom/Etienne remarked that he wished he had chosen a more aggressively masculine name to attach to his art.
In his late teens Dom enrolled to study at the prestigious Art Institute of Chicago—where he "learned nothing." He withdrew from the Institute at the end of his first year after viewing a show of graduating artists and seeing the painting that achieved the highest award: the canvas was all white with a red spot in the middle. The next year he enrolled in a graphic arts program but found he didn't have the patience for repetitive mechanical detail.
But in the underground world of erotica, painting and drawing under the name of Etienne, Dom started to achieve notoriety. Soon the sexually charged atmosphere of Dom's artistic world had a real world effect with the decision to open the Gold Coast bar. "Let's not just draw it, let's do it" he said to Chuck. Notable features of the Gold Coast were the massive murals Dom painted to cover the walls of the bar. These amazing 8 to 10 foot oil and acrylic works had the effect of turning the bar into a sexually charged alley lined with hot men, huge cocks, and straining levi/leather. The murals, according to Dirk Dehner, a contemporary and friend to both Etienne and Tom of Finland, "give homage to mythical men of might and brawn.. . .He often interchanged the Greek and Roman gods with his leather-clad tough boys and waterfront thugs."
And it wasn't all tough guys, military studs, prison guards, hard ass cowboys, waterfront thugs and the cock hungry blond boys they tormented either. The artist of the IML Wingman logo? Etienne. Hellfire Club colors? Etienne.
The World of Dance
Orejudos was also deeply involved in the ballet world as a dancer, choreographer, costume designer, and set designer. Dom grew up in Chicago and made his first appearance with the Illinois Ballet Company at the age of sixteen. Throughout his life he devoted his talent and energies to the artistic expression of dancing. He was awarded three separate grants from the National Endowment for the Arts, and over a dozen of his works were presented on PBS television earning three Emmy awards. His ballet "The Charioteer" was created to inaugurate the first color broadcast of the Chicago PBS television station. Dom earned critical acclaim choreographing ballets for almost twenty different ballet companies around the nation. Dom's stage credits also include dance roles in the touring companies of West Side Story, The King and I, and Song of Norway.
Stephen and the Storybooks
Dom used his middle name, "Stephen," to sign many of his pen and ink fantasies. Initially, the idea was to give the impression that Kris Studios had more than one artist (i.e. Etienne) on board. Dom found that working in pen and ink was much faster than painting and allowed him to write details and narrative into the drawings—creating some of the earliest porno-graphic storybooks to be widely published and distributed. The storybooks contain elaborately detailed scenes, fetish s/m wonderlands of domination, submission, obedience and punishment. As Dirk Dehner describes them, in the storybooks Dom as Stephen "creates heroic looking men with an overabundance of testosterone and male pheromones, and then sends them into the most bizarre situations where they are only released from the grasp of death or severe sexual punishment by agreeing to perform some perverse, oftentimes hysterically humorous, sexual scenario. His men were highly inclined to be members of the military, or ranch hands, or some other kind of tough guy. Oh yeah, he always had a hard-on for the bad boys from the wrong side of the tracks."
Fascination with leather, feet, socks and s/m permeates much of Dom's artwork. "The theme of domination and subjugation comes up a lot in my drawings," he said, "so I guess that must be a real turn-on for me. . . . I don't assume either viewpoint while I'm drawing a domination/subjugation drawing; I just see it as a scene, rather like looking at a movie."
"I just draw erotic fantasies."
With characteristic modesty, when asked to describe the significance of his work, Dom responded "I just draw erotic fantasies." And what hot fantasies they are! Here's how Dom described the nature and growth of his work: "The very first set I drew that was offered commercially was not leather/levi; it was uniforms. Navy actually. However, leather/levi scenes came very shortly after that, not surprisingly since I was into leather then and indeed have remained so to this day. As for the models in my drawings being 'well-endowed,' I try to keep the measurements within the realm of possibility. I mean, the entire figure is, to an extent, exaggerated, glorified. The deltoids are a little rounder, the pecs a bit squarer; so the cock is proportionally 'enhanced.' But never, I hope, enlarged to the point of being unbelievable or grotesque. The cock shouldn't be the focus point by virtue of its size. In any case, viewers, I think, expect a certain, shall we say, 'heroic heft' to the genitals in drawings of the type I do. The prick on Michelangelo's David for instance, might be more true to life, but it would look wrong and too small on one of my drawings; I don't think the audiences would accept it." For Etienne, the most important aspect of his work wasn't cock; it was "facial expression." "So much can be implied with the face, emotions that intensify whatever action is occurring in the drawing."
When asked in a 1983 interview what he hoped people in the future would remember about him, his work, and the historic times he lived in, Dom responded, "Well, I don't think that by looking at my drawings that they would be able to tell much about my personality, whether I was good or bad or kind or sarcastic or anything like that. However, an observer could probably pick up on a lot of surface things like, 'Wow, he's into white socks,' or 'Hey, this guy digs blondes,' or, 'Hmmm, looks like Etienne was into leather.' As far as what I hope they'll feel about me and about my work, I think it would be nice if they would find it exuberant, that there is life in it, that it would sound echoes of a nice spirit."
"I'd say honesty is pretty important," he answered when asked what was the most important quality for an artist like himself. "And, I think you have to be unafraid to reveal things about yourself to the viewer, because drawings really tell a lot about the artist. . . . So the artist must be secure and sure of himself and not timid about revealing aspects of himself to his viewers."
In 1991, as he was dying, Dom's last words to Chuck Renslow were "Well, I'll only be here a little while longer." Yet, for tens of thousands of men the sexual power of his pictorial fantasies continue to excite and capture the imagination. Domingo, Dom, Etienne, Stephen Orejudos: his life and what he created with his life triumph in those exuberant moments he continues to inspire. To paraphrase what he said to Chuck Renslow as they made the decision to open the Gold Coast, he didn't just draw it, he lived it—and through his artwork, we're invited to live it as well.
—Jack Lock
References:
Durk Dehner, "The Art of Etienne: Court Jester of Erotica," leatherarchives.org/collections/art/etienne/etienne.htm
Etienne Oral History, leatherarchives.org/collections/art/etienne/etienne.htm
Kenan Heise, "Dom Orejudos, 58, Ballet Dancer And Artist Known As 'Etienne,'" Chicago Tribune, October 2, 1991.
Interview with Etienne, Bill Christie 3/1/83 National Gay Art Archives, San Francisco. (3/1/83).
Leatherman, the Legend of Chuck Renslow by Tracy Bain and Owen Keehnen,  Prarie Ave. Productions, Chicago, 2011.
Secret Historian: The life and times of Samuel Steward, professor, tattoo aratist, and sexual renegade by Justin Spring, Farrar, Straus and Giroux:  New York, 2011.