2020 Inductees Announced
Dear friends,

As you may be aware, due to the current coronavirus epidemic, CLAW 20 has been cancelled.

Consequently, the Leather Hall of Fame brunch and ceremony of induction, initially scheduled on April 26, 2020 at 12pm, will be taking place on November 15, 2020, 12-2pm.

We will be inducting and celebrating the legacies of:
MLC Munich;
Jim Ward;
and Pauline Réage.



As you take these weeks to remember past inductees or learn about the new ones, we would like to ask you to remember or learn about Daniel Dumont.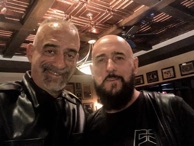 Daniel, born in 1959 in Belgium, was a true icon of the leather scene in Europe where he was known as Daddy Schtroumpf (in reference to the original name of the Belgian comic known in the English speaking world as The Smurfs): a pillar of MSC Belgium which he presided over for more than 20 years, he also served as Secretary of the European Confederation of Motorcycle Clubs (ECMC) from 2009 to 2019, as a Judge for IML 27 (2005) and 37 (2015) and for MAL 2019. He had also been a governor of the Leather Hall of Fame since the creation of the Board of Governors (renamed since Selection Committee), in 2010.

Daniel, photographed here with Bob Miller, Founder and Chairman of the Leather Hall of Fame, died on March 22, 2020, from COVID-19 complications.

We will dedicate this ceremony to his memory.

Please stay safe.

rostom mesli, managing director