Method of Nomination

Anyone may make nomination to the LHOF. Nominees may be individuals or organizations. To be eligible, a nominee must have made a substantial contribution to the leather community dating back at least twenty years. A nomination may include a preliminary biography of the nominee, and at a minimum should include a brief summary of the nominee's accomplishments. The annual deadline for nominations is October 15th.

The LHOF shall research the accuracy of the nominations and modify and supplement the nomination with any pertinent information. Nominations are voted on by the Board of Governors in late November. Three nominations will be chosen each year for induction into the Leather Hall of Fame.

The Leather Hall of Fame (LHOF) represents all people in the modern leather community around the World, without regard to gender or sexual orientation. There are no quotas based on gender, location, sexual orientation or any other factor.

Robert Miller, Palm Springs, California
Jeff Willoughby, Chicago, IL
Daniel Ruester, Oberaudorf and Berlin, Germany
Race Bannon, San Francisco, CA
Gayle Rubin, San Francisco and Ann Arbor
Rob Bienvenue, Olney, MD
Daniel Dumont, Brussels, Belgium
Viola Johnson, Indiana
Derek Cohen, London, England
Gloria Brame, Athens, GA
Jim Taylor, Las Vegas, NV
Nancy Irwin, Toronto, Canada
Guy Baldwin, Los Angeles, CA
2020 Inductees Announced
Dear friends,

As you may be aware, due to the current coronavirus epidemic, CLAW has been postponed to November 19-22, 2020.

Consequently, the Leather Hall of Fame brunch and ceremony of induction, initially scheduled on April 26, 2020 at 12pm, will be taking place on November 22, 2020, 12-2pm.

We will be inducting and celebrating the legacies of:
CMC Munich;
Jim Ward;
and Pauline Réage.



As you take these weeks to remember past inductees or learn about the new ones, we would like to ask you to remember or learn about Daniel Dumont.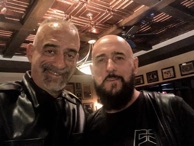 Daniel, born in 1959 in Belgium, was a true icon of the leather scene in Europe where he was known as Daddy Schtroumpf (in reference to the original name of the Belgian comic known in the English speaking world as The Smurfs): a pillar of MSC Belgium which he presided over for more than 20 years, he also served as Secretary of the European Confederation of Motorcycle Clubs (ECMC) from 2009 to 2019, as a Judge for IML 27 (2005) and 37 (2015) and for MAL 2019. He had also been a governor of the Leather Hall of Fame since the creation of the Board of Governors (renamed since Selection Committee), in 2010.

Daniel, photographed here with Bob Miller, Founder and Chairman of the Leather Hall of Fame, died on March 22, 2020, from COVID-19 complications.

We will dedicate this ceremony to his memory.

Please stay safe.

rostom mesli, managing director